Trinity Ev. Lutheran Church (WELS)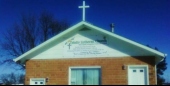 WELCOME

Welcome to the website for Trinity Ev. Lutheran Church.
Visitors are always welcome at this site, just as they are within our church.

Trinity is located in McCook on the Corner of
1619 W 3rd Street
just north of McCook Elementary.

The church telephone number is (308) 345-6558.
Pastor Meyer's cell is 785-202-1101
email addresses: trinitylutheranmck@gmail.com
and timmomeyer@ruraltel.net
Our worship services are held each Sunday morning.
ALL are always welcome!
Bible Study follows the service
To learn more about us, click on the "About Trinity" tab
*SUNDAY WORSHIP 2023*
OCTOBER 1, 8, 15, 22, 29 @ 8:00am*
Pastor Timm O. Meyer also serves
Redeemer Ev. Lutheran Church, Norton, KS
Living Savior Lutheran, Hays, KS
May the Lord bless this ministry.